Piotr Szyhalski
Labor Camp Orchestra
and collaborators

June 4-5, 2011
Father Hennepin Park, Minneapolis
9:00 PM-6:00 AM


"Empty Words" is a nine-hour, participatory, multimedia event--part poetry reading, part dance, parade, and concert--constructed around the collective reading of "Empty Words" by John Cage. This elegant and powerful, yet poetic and playful text attempts to "demilitarize language," carrying an important message: awakening poetry while making it impossible for people to "control one another."

"Empty Words" includes spoken word, live musical performances of Vexations by Erik Satie, projections, art objects, and other actions. A dusk 'til dawn collective contemplation of surrender as an opening up to a hopeful future. A spontaneous blend of community festival and a theatrical performance tempered by an attitude of thoughtful expectation. A transformation of darkness into the light, of words into music. The event aims to celebrate these ideas, "so that we can do our living..."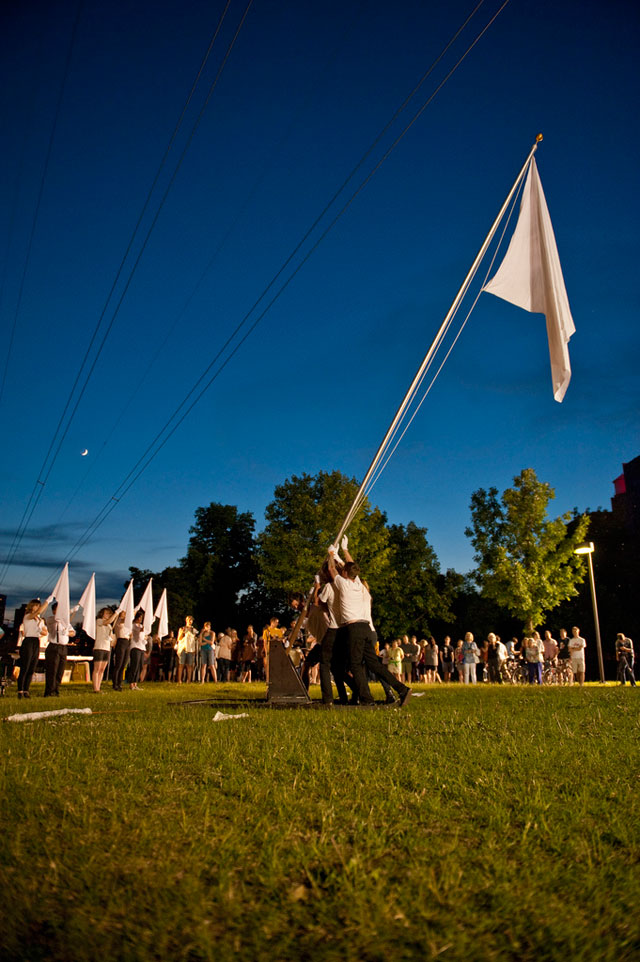 Fig. 00 : Empty Words



John Cage on "Empty Words" and the demilitarization of language,
in a radio interview, August 8, 1974

I let it be known to my friends, and even strangers, as I was wandering around the country, ... that what was interesting me was making English less understandable. Because when it's understandable, well, people control one another, and poetry disappears --and as I was talking with my friend Norman O. Brown, and he said, "Syntax [which is what makes things understandable] is the army, is the arrangement of the army."

So what we're doing when we make language un-understandable is we're demilitarizing it, so that we can do our living....

It's a transition from language to music certainly. It's bewildering at first, but it's extremely pleasurable as time goes on. And that's what I'm up to. "Empty Words" begins by omitting sentences, has only phrase, words, syllables and letters. The second part omits the phrases, has only words, syllables and letters. The third part omits the words, has only syllables and letters. And the last part...has nothing but letters and sounds.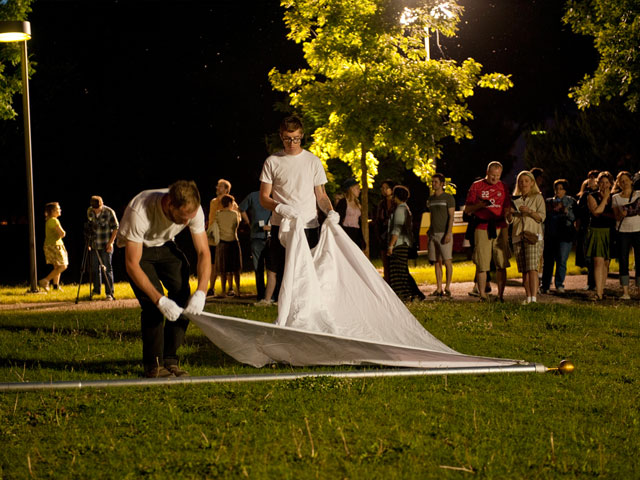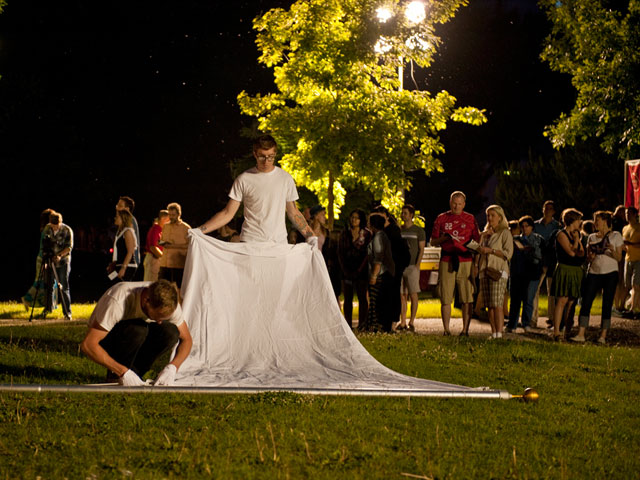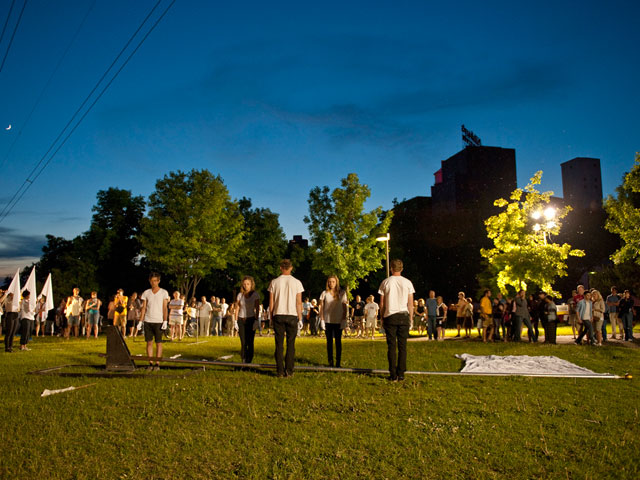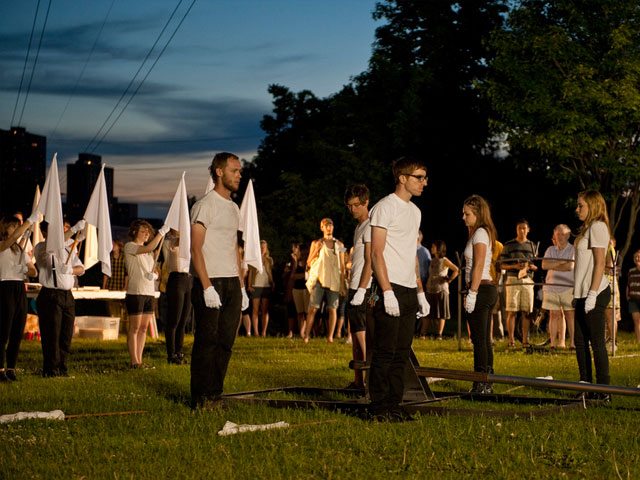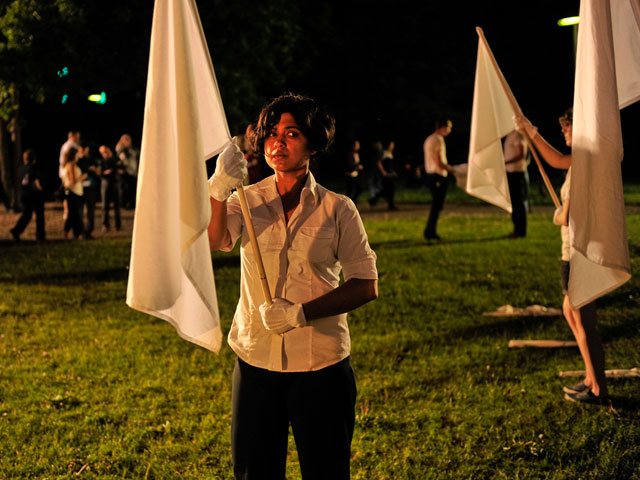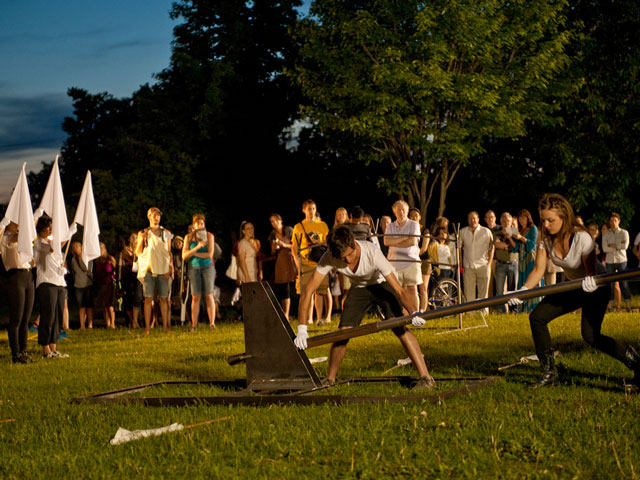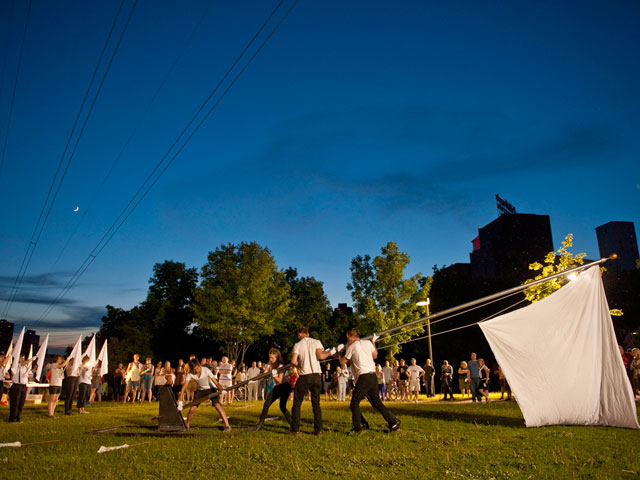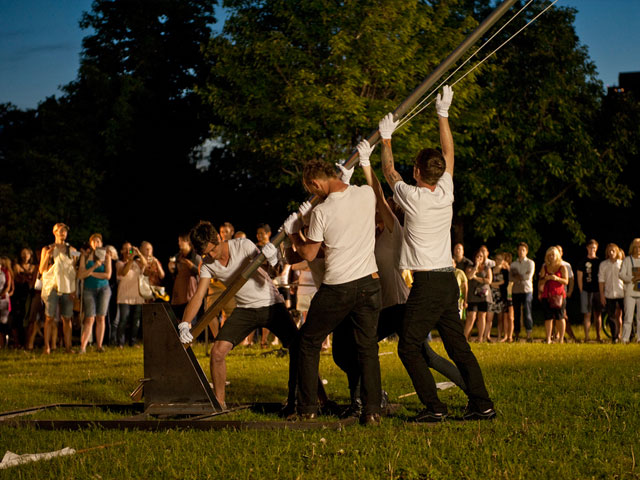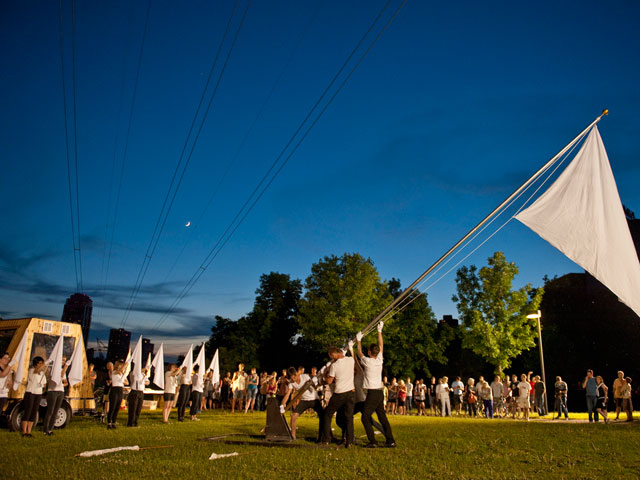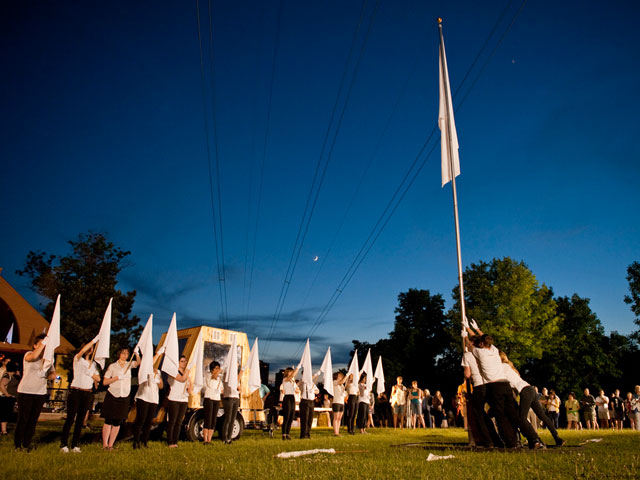 Fig. 01 : Empty Words : The First Surrender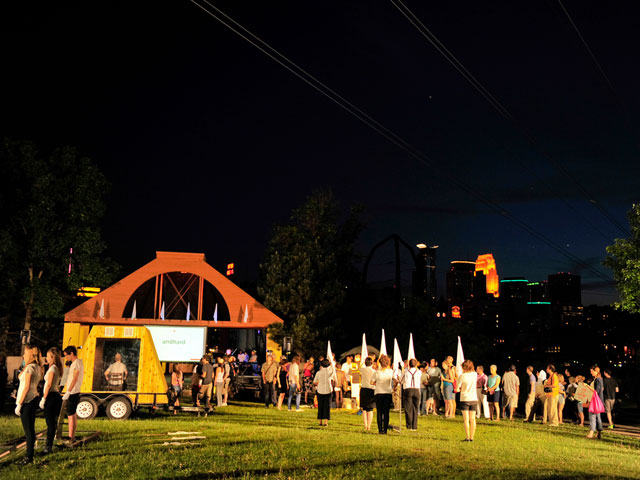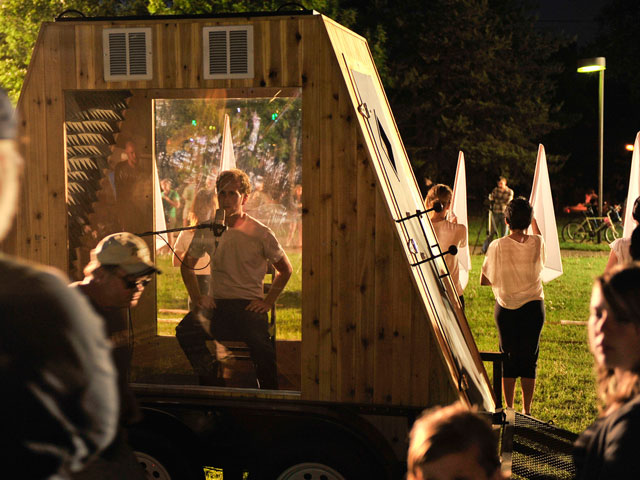 Fig. 02 : Empty Words : Reader Station ("Sightseer" by Brian Nigus)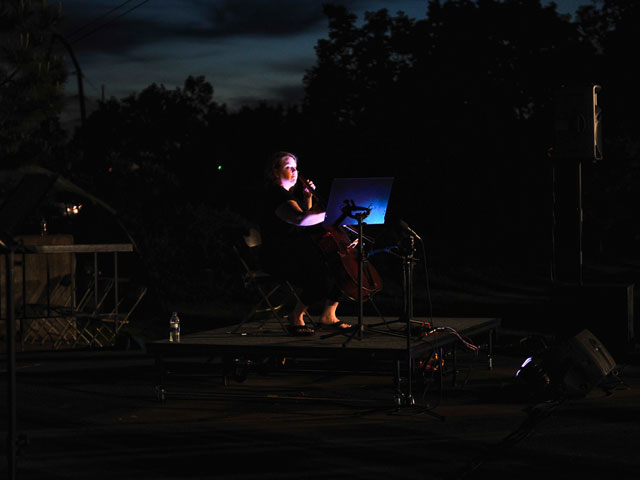 Fig. 03 : Andrea French, cello, performing the opening set of "Vexations"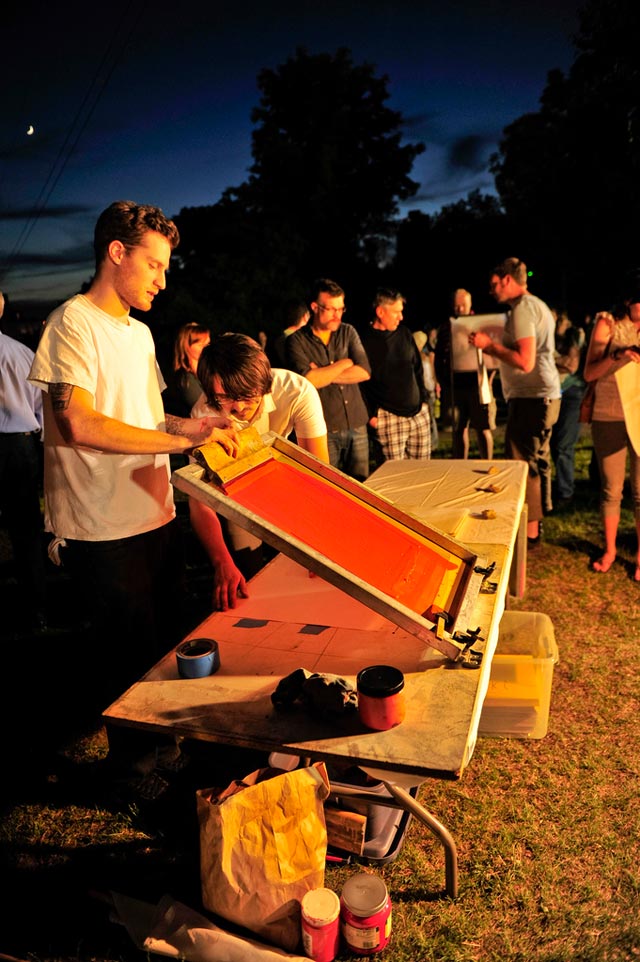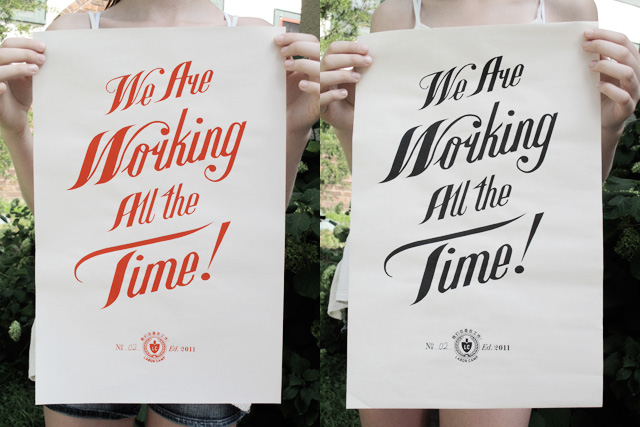 Fig. 04 : Printing of "We Are Working All The Time" posters (second edition) : Visit We Are Working All The Time! posters site!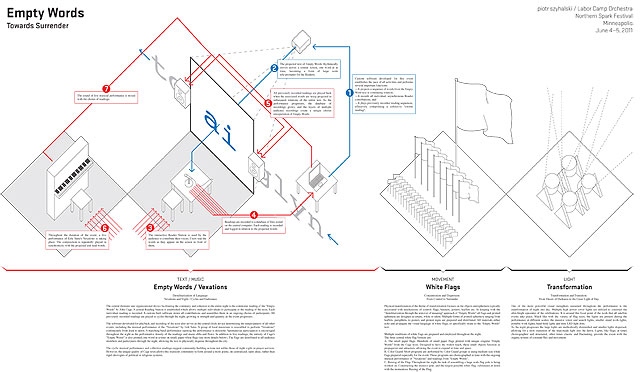 Fig. 05 : Empty Words Topology document (download PDF)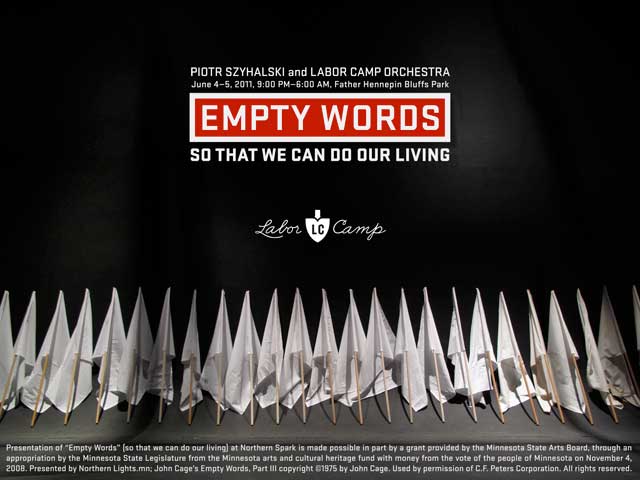 Fig. 06 : Empty Words poster mailer




Credits

Performers:

Michael Aberman
Alyson Coward
Derek Ernster
Vadim Gershman
Ethan Holbrook
Ryan Hughes
Ned Hurley
Jonathan Karen
GraceMarie Keaton
Allegra Lockstadt
Jessica Ashley Nelson
Sandesh Nicol
Emily Reile
Carla Alexandra Rodriguez
Nicole Sanders
Ben Severns
Vijaya Suravajala
Piotr Szyhalski
Pramila Vasudevan
Katy Vonk
Sheila Wagner
Annie Yiling Wang


Musicians:

Jonathan Ten Brink, baritone
Joe Durben, clarinet
Andrea French, cello
John Keston, keyboard, electronics
Steven Leung, electric violin
Dylan Nau, synthesizer
Nick Nguyen, violin
Erik Ostrom, accordion
Brian Rowe, bass
Nicole Sanders, piano
Michael Selle, saxophone
Sara Thompson, double bass
Andy Vaaler, accordion


Production :

Andrea Fulkerson
Pamela Johnson
Robert Luna
Don Myhre
Jack FX Pavlik


Sound booth:

Brian Nigus "Sightseer," 2011, mixed media
Courtesy of the artist


Photographs on this page (Fig. 01-04) by Patrick Kelley, courtesy Northern Lights.mn


Labor Camp is grateful to the many artists, musicians, volunteers, and professionals who helped make this project possible. Special thanks to Steve Dietz and Andrea Steudel of Northern Lights: We Are Working All The Time!

Presentation of "Empty Words" (so that we can do our living) at Northern Spark is made possible in part by a grant provided by the Minnesota State Arts Board, through an appropriation by the Minnesota State Legislature from the Minnesota arts and cultural heritage fund with money from the vote of the people of Minnesota on November 4, 2008. Presented by Northern Lights.mn;

John Cage's Empty Words, Part III copyright ©1975 by John Cage. Used by permission of C.F. Peters Corporation. All rights reserved.



Additional materials:

Official Empty Words page on Northern Spark 2011 site.
Empty Words flickr image set by Patrick Kelley.
Empty Words flickr image set by Robert Luna Photography.
Official site for the We Are Working All The Time! posters.